Tuberculosis Clinic
Tuberculosis (TB) Clinic OPD is conducted by Dr. Parthiv Shah at Ashokone Hospital   at  Sadguru Heights – 1, Shiv Vallabh Road,
Ashok Van, Dahisar East, Mumbai, Maharashtra 400068
Contact 93242 47349 | 9029772904
Approximately 40% of the Indian population is infected with tuberculosis bacteria, with the great majority having latent rather than active TB. The World Health Organization (WHO) estimates that over 300,000 people die in India each year from tuberculosis (TB).
Ashokone Hospital and Dr. Parthiv Shah TB specialist and pulmonologist provide specialized TB care services in Mumbai. Dr. Parthiv Shah provides all types of diagnostic and World-class treatment approaches for patients who suffer from various types of TB such as pulmonary tuberculosis, Extrapulmonary tuberculosis, and drug-resistant tuberculosis.
Our TB clinic at Ashokone hospital Sadguru Heights – 1, Shiv Vallabh Rd, Ashok Van, Dahisar East, Mumbai, Maharashtra 400068 aims to address key gaps in the TB care pathway by developing novel techniques to avoid infection, limit disease progression, and enhance diagnosis and treatment. Our TB Clinic efforts are diverse because we believe that vaccinations, diagnostics, medications, and enhanced treatment delivery are all necessary to combating the TB diseases in India. OPD timings for Dr. Parthiv Shah at the TB clinic is 8 PM – 9 PM Monday to Saturday. For appointments contact 9029772904
Services
Pulmonary TB
Pulmonary tuberculosis (TB) is an infectious disease caused by Mycobacterium tuberculosis. Exposure to infection and HIV infection are all major risk factors. Coughing, fever, and weight loss are all possible symptoms.
If pulmonary tuberculosis is suspected, the patient should ideally be isolated, a chest x-ray taken, and three sputum samples collected for acid-fast bacilli smear and culture; a nucleic acid amplification test on at least one respiratory specimen should be conducted.
Directly monitored treatment is strongly recommended, especially in individuals where adherence cannot be assumed.
Our TB Clinic provides Early detection and implementation of appropriate therapy for infectious tuberculosis is critical for controlling TB spread.
Extrapulmonary Tuberculosis
Extrapulmonary tuberculosis (EPTB) is a bacterial infection caused by Mycobacterium tuberculosis that affects organ systems other than the lungs.
Diagnosis may be delayed due to nonspecific clinical signs that proceed slowly, as well as the limited sensitivity of acid-fast bacilli (AFB) smears on extrapulmonary specimens.
Microbiologic evidence is essential for diagnosis and therapy, and tissue biopsies are usually necessary. Pathology results of granulomas and positive AFB stain, as well as chest x-ray findings, are also supportive.
We provide initial treatment at our TB clinic consisting of a 4-drug regimen of isoniazid, rifampin, pyrazinamide, and ethambutol, and it lasts at least 6 months.
MDR Tuberculosis
MDR TB is caused by an organism that is resistant to at least isoniazid and rifampin, the two most powerful TB medications. These medications are used to treat all people who have tuberculosis. Our best Pulmonologist Dr. Parthiv Shah offers the best  TB care and treatment at our TB clinic at Ashokone hospital.
XDR-TB
Extensively drug-resistant tuberculosis (XDR TB) is a rare form of MDR tuberculosis that is resistant to isoniazid and rifampin, as well as any fluoroquinolone and at least one of three injectable second-line medicines (i.e., amikacin, kanamycin, or capreomycin).
Because XDR TB is resistant to the most strong TB medications, patients are left with far less effective treatment alternatives.
XDR TB is of special concern for persons with HIV infection or other conditions that can weaken the immune system. These persons are more likely to develop TB disease once they are infected, and also have a higher risk of death once they develop TB. Get advanced treatment approaches for XDR TB at our TB clinic center at  Ashokone hospital.
Our Happy Patient Reviews
Dr. Parthiv Shah is such a great doctor . He is god for my sister . With excellent treatment , he also motivates . My sister is suffering from tuberculosis , her health was too weak but when we met Dr. Parthiv Shah .. we got so many good changes in my sister's health . His politeness is a symbol of great doctor . I want to a big & big thanks to doctor parthiv Shah ..
Dr. Parthiv Shah is one of the most compassionate doctor. He always gives best advice and always gives the solution in the best interest of the patient. Also the best part is that he stays in touch with the patient and if there is any issue he is always there to assist and help. I would 100% recommend Dr. Parthiv Shah for consultancy.
Foram Vithalani
20/11/2021
I would definetly recommend Dr. parthiv shah as the tb doctor in mumbai. I was suffering from Cough for more than 3 weeks, fever, loss of appetite and muscle, weight loss and normal medicines from family doctors did not provide much help . Then one of my relative recommended Dr. parthiv shah for the treatment at ashok one hospital in dahisar. When i met Dr. Shah for the first time, he was very comforting and listened to my problems carefully. I also realised that he has good knowledge and experience with tuberculosis. He understood the problem in depth and then suggested to do an EBUS (endobronchial untrasound) which usually people avoid but he explained the importance of the same. That made us confident and helped in diagnosis of TB properly. I was told to take full rest and make sure I take my medications on time. Also was suggested to have protein high diet and regular monitoring to make sure things are better. Over the period of 6 months also he was very nice and monitored very deeply to my progress and advised me and consulted me on the challenges i could possibly face during the treatment For people detected with Tuberculous I would like to say that the most important thing I feel is proper and detailed diagnosis. Just knowing that you have TB is not important but also other factors like what type of TB it is and is it drug resistant, etc. Taking medications on time and proper care and rest is of utmost imp. Initially u do feel low about the whole situation but all will be fine, just be positive and take proper care and medications. Do not think too much about the situation and get panicky, a good doctor like him and right treatment will make everything perfect. Thanks a lot to the doctor.
Sharing my TB experience with Dr. Parthiv Shah. Dr. Parthiv Shah is undoubtedly the best doctor for tuberculosis in Mumbai. This is my story on how Dr. Parthiv shah helped me to conquer TB. It all started back in the very first week of Dec 2020, initially, I had mild fever, thinking it just might be some kind of viral infection, I didn't give it much attention. A few days later, I started feeling dizzy and noticed a rise in my body temperature. After 3-4 follow-ups from our local family doctor, we got to know there's a pleural effusion in the left side of my lungs. Our doctor advised me to be hospitalized at the earliest for proper treatment. Eventually, I got admitted in a nearby private hospital. After 2-3 days, the concerned doctor said that I was diagnosed with typhoid. Later it was confirmed I had TB, which broke down me a bit. After a total of 6 days, I got discharged, following the medication and injections. Half a month of inconsistent misdiagnoses, treatment with powerful medication and injections, I started losing my hearing, lost appetite which gradually led to weight loss and weakness, making me emotionally unstable. Giving our family doctor a visit, he suggested taking a second opinion of a well-versed doctor. Without giving a second thought, we headed off to Dr. Parthiv Shah. The very first visit turned out to be great, never met such a compassionate and committed doctor before. He explained the whole treatment with such professionalism and patience which made my parents and myself believe that he'll surely give me the required treatment. Soon I got admitted again under Dr. Shah's supervision, following some minor tests. He even understood our financial instability and supported us through the whole process. He took care of my transfer procedure to Sion hospital too. From writing off my detailed history to connecting me to a doctor at Sion all was done by him. Somewhere I was all pleased that he was lessening our burden. From constantly having a temperature of 104 since a month, it dropped to 98 and I was discharged from Sion. I had to take AKT, anti-tuberculosis medicines. After 9 months of frequent follow-ups from Dr. Parthiv and Dr. Jayraj from Sion Hospital, I finally got TB free on the 22nd of Oct, 2021. So glad that we got guided and treated by Dr. Parthiv Shah emotionally, financially, and most importantly mentally. It's hard to find such trustworthy doctors. You are the best Doctor. God bless you.
Very good and detailed treatment by doctor Parthiv Shah
Contact Info
Address- B9 – A 25, MHB Colony, Rajendra Nagar, Dattapada Road, Nr. Rajendra Nagar Police Chowki, Borivali (E)
Mobile: 93242 47349 | 9029772904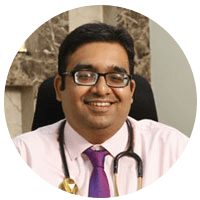 Dr. Parthiv Shah
Best Pulmonologist in Mumbai